| Item ID | Starting Bid | Bids | Current Bid |
| --- | --- | --- | --- |
| 79353 | $50.00 | 0 | $0.00 |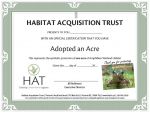 Winning Bidder
Winning bidders will be contacted after the in-person auction closes
Adopt an Acre of habitat with HAT. You can help our wildlife in need, give a gift to nature and to a loved one!
You are helping us work on the front lines to improve the habitats of hundreds of creatures – whether it is for owls facing an urgent need of nesting habitat, mother bats with young pups facing unexpected home evictions, or frogs forced to endure a life-threatening migration across busy roads.
These funds will go towards the Land Protection Fund - that will permanently protect habitats for our plants and animals in need of safe and secure place to live.
Your gift is extremely important - it offers immediate resources directed to current needs of these animals, plants, and their habitats at risk of disappearing.
Every living thing requires a home, but our local flora and fauna are rapidly disappearing as human demands on the land increase. That is why it's more important than ever to conserve land now, to provide tools to protect and restore nature, to teach future generations about the importance of nature, and their role within it
Adopt and acre today!
For your adoption you will receive a certificate. You can Adopt an Acre as a gift and make your certificate out to someone special too.
This item is an **online exclusive** and this lot will not be up for bid Nov 8th.
You can also adopt an acre online here: https://www.canadahelps.org/en/charities/habitat-acquisition-trust/adopt-an-acre-of-habitat/
or by calling 250-995-2428